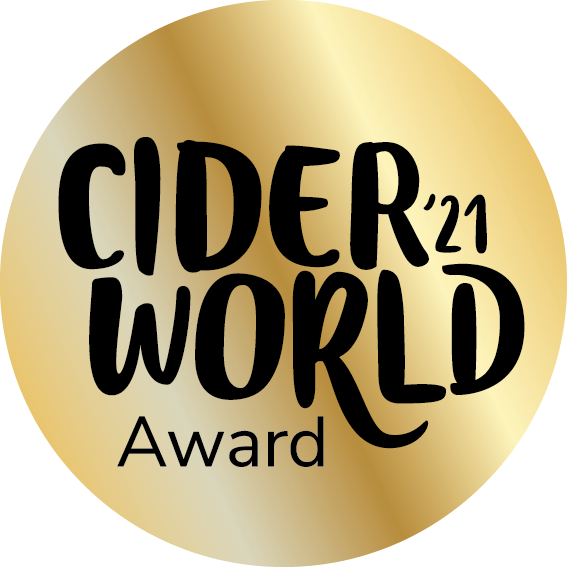 Unique | Science-based | International
The unique combination of science-based analysis and international expertise.
CiderWorld'21 Award Bigger Than Ever!
180 Products | 77 Producers | 17 Nations | 3 Continents
Products of well-known producers from the following countries were submitted in 2021:
Austria – Canada – Denmark – Estonia – France – Germany – Ireland – Italy – Japan – Latvia – Netherlands – Norway – Poland – Spain – Switzerland – Ukraine – United Kingdom
CiderWorld Medal 2021
Due to the Covid 19 pandemic, the presentation of the CiderWorld'21 Awards and CiderWorld Medal 2021 for the best in each category will be broadcast from the Astor Film Lounge in Frankfurt am Main on 3 June 2021. Watch the video here.
---
Results
---
CiderWorld Award
Science-based
CiderWorld Award is organized in cooperation with the Universtity of Applied Sciences Geisenheim.
Geisenheim University is one of the world's leading universities in the field of beverage technology.
All submitted products are analysed at the Institute for Beverage Research of Geisenheim University. All producers receive a detailed analysis of the products submitted.
Internationally recognised
An internationally expert jury tastes and evaluates all products according to the proven CiderWorld 120-point scheme.
Country-specific and regional characteristics of the products will be considered by the jury.
Expertise with analysis and sensory assessment of the jury for each submitted product. Around 500 products from over 20 countries have been evaluated in the CiderWorld Award, so far.
Benchmarking & Marketing
CiderWorld Award shows you, the ranking of your product in national and internationalen comparison.
The detailed evaluations of the CiderWorld Award show you the development possibilities of your product.
Products over 80 points will be awarded with the CiderWorld Award certificate.
The CiderWorld Award label is the perfect tool for your marketing in trade and press.
Presentation
The results of the products with at least 80 points are presented online.
Take advantage of the attention of the CiderWorld Awards in the trade press.
The awarded products are presented in large social media campaigns.
You can present your products to a broad audience from the trade and gastronomy at the coming fair CiderWorld Frankfurt. A separate registration is required for this!
---
Categories
Cider still
Apple wine, cider
Cidre (Méthode ascentral)
Sidra Natural, Sidro
Cider flavoured & mixed
Cider | apple wine with quince, pears etc.
Cider | apple wine with hops, spices etc.
Fruit wines of perry, cherry, pears etc.
Sparkling Cider
Sparkling cider
Sidra espumosa
Sidro frizzante & spumante
Sparkling flavoured & mixed
Sparkling apple cider mixed with other fruits
Sparkling apple cider with hop, spice etc.
Sparkling fruit wine
Ice Cider
Cidre de glace | Ice cider (cryoextraction / cryoconcentration)
Apple dessert wine barrel aged, Sherry style or Portwine style
Apple wine – or. Apple dessert wine with high Alkohol (>8 bzw. >12% vol.)
Fruit dessert wine
NEW Non-Alcoholic Cider
De-alcoholized cider or perry
Carbonated apple & pear juices
Carbonated apple or pear juice (min. 50% content) mixed with other fruit
NEW Brandy
Fruit brandy from 100% apple, pear or quince or mixture of these three fruits
Brandy distilled from cider or perry
Calvados
---
CiderWorld 120 points scheme
The evaluation criteria and categories were determined by an international jury of experts.
Country-specific and regional characteristics of the products are considered.
The sensory test is evaluated according to the CiderWorld 120-point scheme:

Gold | 109 – 120 points
Silver | 97 – 108 points
Honor | 80 – 96 points

CiderWorld Medal 2021
Special award for the best product in category
(minimum 109 points)
---
Judgement Panel
Judgement panel of the Cider World Awards
Judge
Country
Prof. Dr. Frank Will (Chairman)
Hochschule Geisenheim University
Germany
Claude Jolicoeur
Cider Consultant
Canada
Prof. Dr. Torben Toldam Andersen
University of Kopenhagen
Denmark
Mark Gleonec
AOP Cournouaille
France
Claudiu Dumea
Sommelier
Italy
Gaby Wehle
Sommelière & Tourism
Portugal
Arantza Karthoff
Sidra & Tourism
Spain
Joxe Mari Alberro
Direktor Sagardun Partzuergoa
Spain
Haritz Rodriguez
Ciderzale
Spain
Eduardo Vázquez Coto
Cider Guerrilla
Spain
Thomas Vaterlaus
Journalist Vinum
Switzerland
Gabe Cook
The Ciderologist
United Kingdom
Susanna Forbes
Author & Cider Producer
United Kingdom
Peter Mitchell
Cider & Perry Academy
United Kingdom
Darlene Hayes
All Into Cider
United States
Vicky Bäumer
Hochschule Geisenheim University
Germany
Jens Becker
Owner Apfelweinhandlung JB
Germany
Sandra Bechtholf
Sommelière
Germany
Jörg Birringer
Transgourmet
Germany
Valentin Brodbeck
Wine Land & Juror Vinum
Germany
Jonas Burkhardt
Hochschule Geisenheim University
Germany
Markus Erb
Wine Academic WSET
Germany
Bastian Fiebig
Director Genussakademie Frankfurt
Germany
Mario Furlanello
Owner Bornheimer Ratskeller
Germany
Anja Giehl
Hochschule Geisenheim University
Germany
Jens Heinemeyer
Wine Consultant
Germany
Martin Henke
Chief Wine Maker Kelterei Possmann
Germany
Thomas Hirsch
Wine Control
Germany
Harry H. Hochheimer
Wine Consultant
Germany
Ingo Holland
Spice Manufacturar
Germany
Klaus Kneib
Weinwerk Frankfurt
Germany
Klaus-Dieter Kneip
Former CEO Rapp's Kelterei
Germany
Michael Koch
Transgourmet
Germany
Evert Kornmayer
Verlag Gebrüder Kornmayer
Germany
Dörte Kühn-Nagel
Wine Academic WSET – Die Wein Schule
Germany
Petra Kürbel
Hochschule Geisenheim University
Germany
Christian Lebherz
Owner Cool Climate Frankfurt
Germany
Andreas Maier
Author
Germany
Alexander Nöll
Cider Producer
Germany
Claudia Rehm
Sommelière
Germany
Anja Rheinberger
Hochschule Geisenheim University
Germany
Anette Schramm
Sommelière & Tourism
Germany
Jörg Stier
Cider Producer & Author
Germany
Robert Theobald
Cider Producer
Germany
Boris Tomic
Editor-in-Chief Food Service
Germany
Sebastian Vogt
Blog Cider Journey
Germany
Dieter Walz
Cider Producer& Distiller
Germany
Natalia Wszelaki
Blog Cider Explorer
Germany
Meinhard Wicht
Beer Sommelier
Germany
Thomas Wiedemann
F&B Manager Grandhotel Hessischer Hof
Germany
Frank Winkler
Owner Lorsbacher Thal & Affentor Schänke
Germany
Jörg Winkler
Journalist Wein + Markt
Germany